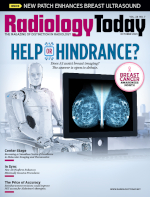 On the Case
By Pramod Gupta, MD, and Robert Sims, MD
Radiology Today
Vol. 24 No. 7 P. 30
History
A 48-year-old man with history of chronic alcohol and tobacco use presented to the emergency department with nausea, vomiting, and diffuse abdominal pain. The patient denied any fever, chills, hematochezia, or melena. Contrast-enhanced CT was performed and revealed a nonspecific mass involving the rectum. There was no bowel obstruction or other acute findings on CT. The patient was admitted for further work up. Flexible sigmoidoscopy was performed the next day and showed a submucosal, nonobstructing, medium-sized, noncircumferential mass involving the distal rectum. Lower rectal ultrasound was then performed and showed a 3.5 cm bilobed intramural (subepithelial) lesion in the distal rectum. The mass was hypoechoic on ultrasound with few anechoic areas, suggesting necrosis. Fine needle aspiration was then performed. Cytology revealed pools of extracellular mucin with fragments of columnar mucosa. There was no evidence of necrosis. The possibilities of a mucinous neoplasm or colitis cystica profunda (CCP) were raised. MRI of the pelvis followed to further characterize the rectum and the deep pelvis.
Findings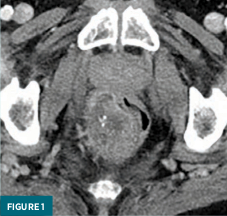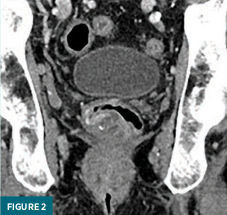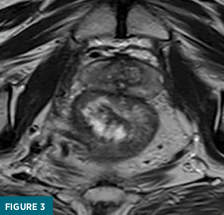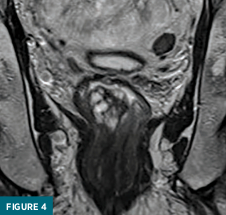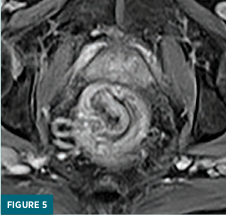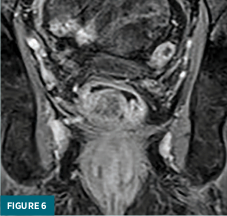 Axial (Figure 1) and coronal (Figure 2) contrast-enhanced CT coned-down images demonstrated a heterogeneous mass in the right wall of the rectum with hypodense areas and calcifications.
Coned-down T2-weighted axial (Figure 3) and coronal (Figure 4) MRI images demonstrated a polypoid 3.1 x 2.5 x 2.8 cm mass confined to the rectal submucosa with several T2 hyperintense cystic areas; this mass correlates with findings on prior CT and ultrasound. Postcontrast axial (Figure 5) and coronal (Figure 6) MRI images demonstrated a lack of enhancement in the cystic areas with overlying mucosal enhancement. There was no invasion of muscularis propria, and the overlying mucosa was intact. No abnormal lymph nodes were present in the pelvis. The patient underwent surgical excision of the mass for a definitive diagnosis.
Diagnosis
Colitis cystica profunda
Discussion
CCP is a rare benign nonneoplastic condition which can mimic carcinoma of the colon from both a radiologic and a pathologic standpoint.
CCP is characterized by the presence of mucus-containing submucosal cysts, which are usually localized to the rectosigmoid region. Evidence of chronic inflammation often accompanies the cysts. This condition can be localized, segmental, or diffuse, with the localized form being the most common. The rectum is also most commonly involved (70% of cases).
The etiology of CCP remains unclear, but a combination of inflammation, mucosal trauma, and prolapse of the rectum have all been suggested. These mechanisms may lead to mucosal ischemia, followed by ulceration and fibromuscular obliteration of the mucosa.
CCP is more common in early adulthood, especially in the third and fourth decades of life. Clinical presentation is variable. Patients may be asymptomatic or present with rectal bleeding, mucus discharge, perineal or abdominal pain, diarrhea, tenesmus, and intestinal obstruction.
On digital rectal examination, single or multiple polypoid masses may be palpated, associated in some cases with rectal prolapse. These signs and symptoms mimic those necessitating an endoscopy. On endoscopy, the CCP-related masses appear as sessile polyps with associated normal, inflamed, or ulcerated mucosa. CCP lesions vary in size from a few millimeters to several centimeters.
Pathologically, multiple cystic structures consisting of cuboidal epithelium containing mucinous material are seen in the submucosa and may extend to penetrate the muscularis propria. Histological differentiation must be made from mucinous adenocarcinoma of the rectum.
Imaging studies may help with the diagnosis, although they may not provide enough information to definitely aid in distinguishing CCP from primary carcinoma. A barium enema may be negative or demonstrate narrowing and irregularity of the bowel lumen, due to the presence of submucosal lesions. Transrectal ultrasound, if positive, typically demonstrates multiple hypoechoic and cystic areas within the submucosa, a lack of local lymphadenopathy, and a lack of invasion of adjacent structures. CT imaging can demonstrate a noninfiltrating rectosigmoid mass with internal cystic areas and a lack of pelvic lymphadenopathy. Calcifications on CT seen in this case do not appear to have been previously described in the literature. MRI can demonstrate a submucosal mass with multiple cystic structures, which are T1 hypointense and T2 hyperintense. These cystic areas do not show enhancement after contrast administration. The muscularis propria remains intact on MRI without evidence of pelvic lymphadenopathy.
Early-stage mucinous adenocarcinoma is the leading differential consideration and can only be definitively excluded using tissue sampling.
— Pramod Gupta, MD, is a staff radiologist at the Dallas VA Medical Center.
— Robert Sims, MD, is a staff radiologist at the Dallas VA Medical Center.
References
1. Hulsmans FJ, Tio TL, Reeders JW, Tytgat GN. Transrectal US in the diagnosis of localized colitis cystica profunda. Radiology. 1991;181(1):201-203.
2. Inan N, Arslan AS, Akansel G, et al. Colitis cystica profunda: MRI appearance. Abdom Imaging. 2007;32(2):239-242.
3. Miller DL, O'Malley BP, Richmond H. Colitis cystica profunda. J Can Assoc Radiol. 1983;34(1):70-72.
4. Rumi N, Cilla S, De Ninno M, et al. Colitis cystica profunda of the rectum with adenomatous dysplastic features: radiologic-pathologic correlation. Radiol Case Rep. 2019;14(6):740-745.
5. Valenzuela M, Martin-Ruiz JL, Alvarez-Cienfuegos E, et al. Colitis cystica profunda: imaging diagnosis and conservative treatment: report of two cases. Dis Colon Rectum. 1996;39(5):587-590.
6. Zaki TA, Mbah M, Mir M, Sims RD, Amin A, Shah SL. Colitis cystica profunda: a rare mimicker of colorectal neoplasia. Dig Dis Sci. 2022;67(7):2693-2695.