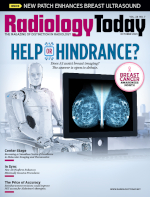 Ultrasound News: Wearable Breast Imaging
By Beth W. Orenstein
Radiology Today
Vol. 24 No. 7 P. 8
Between 20% and 30% of all breast cancers are interval cancers, cancers that are diagnosed within 12 months of receiving a negative mammogram. Interval breast cancers are more likely to have features that are associated with aggressive behavior and poor prognosis, according to the National Cancer Institute.
Canan Dagdeviren, PhD, an associate professor at the Massachusetts Institute of Technology's (MIT) Media Lab, had an aunt who died at age 49 in 2015, six months after having been diagnosed with late-stage breast cancer, despite her having been screened regularly. Her aunt's death made Dagdeviren wonder whether more frequent screening of women at high risk for interval cancers could greatly increase their survival.
One day, before her aunt died, sitting at her bedside, Dagdeviren drew a prototype of a wearable ultrasound scanner that could be used to image high-risk women between mammograms.
Researchers at MIT used 3D printing to create the flexible patch Dagdeviren designed. The patch attaches to a bra using magnets. More magnets attach the wearable patch to an ultrasound scanner that can image the wearer's breast tissue from different angles. "It's portable, easy to use, and provides realtime, user-friendly monitoring of breast tissue," Dagdeviren says.
It took several years to produce the device from patch design. The process included phased array fabrication and characterization, in vivo testing, and clinical studies. MIT graduate student Wenya Du, research scientists Lin Zhang and Emma Suh, and Xi'an (China) Technological University Professor Dabin Lin are the lead authors of a paper about the ultrasound breast patch, which was published in Science Advances. Researchers at MIT's Center for Clinical and Translational Research helped test the wearable patch.
How It Works
Dagdeviren says her design objective was to develop a wearable interface between the 1D array and breast tissue that allows for consistent placement and orientation of the array in the sections of the breast. "The nature-inspired patch consists of a honeycomb pattern with open spaces for the tracker to move through as it traverses a specified path to allow for a maximal field of view," she says. "The tracker is attached to the 1D array to provide ease of slotting into predetermined imaging positions and can move freely around the patch. The 1D array is the key component to obtain ultrasound images for long-term and continuous monitoring."
During testing, the subject was asked to wear the designed bra and patch. "Then, we scanned the breast at six different locations according to the patch design," Dagdeverin says. In each scanning, the phased array in the patch is connected to a Verasonics system, which can send a high frequency pulse on the elements and receive the echo by other elements. The B-mode images were generated by combining all pulse-echo signals using a designed algorithm. "The images of the breast tissue are recorded by the system. Then the cyst can be observed on the screen," Dagdeviren says.
Comparable Resolution
When the researchers tested their wearable scanner on one woman, a 71-year-old patient with a history of breast cysts, it was able to detect cysts as small as 0.3 cm, which is the same size as early-stage tumors. For largearea imaging, individual users can move the array to different positions along the honeycomb-shaped patch to obtain an all-encompassing representation, Dagdeviren says. "The imaging department can employ more arrays simultaneously to achieve spatiotemporally accurate imagery by multiangle image reconstruction."
Dagdeviren says the ultrasound images they were able to obtain had a resolution comparable to that of the ultrasound probes used in medical imaging centers. The patch's ability to discernibly image cysts with diameters around 0.3 cm makes it suitable for early breast cancer screening, Dagdeviren says. For largearea imaging, individual users can move the array to different positions along the honeycomb-shaped patch to obtain an all-encompassing representation, while the hospital imagers can employ more arrays simultaneously to achieve spatiotemporally accurate imagery by multiangle image reconstruction, she notes.
Dagdeviren says that the patch does not need to be worn 24/7, but because there is no pressure on the breast during the testing, patients would be comfortable doing so if they wanted.
To date, the researchers have three phased arrays and several patches. "We have tested three subjects and will recruit more subjects in future clinical trials," Dagdeviren says.
Setting Trends
Currently, patients can see the images immediately. All images with the analysis results can be sent to patients from the imaging center (clinics, hospitals, etc). "We are working on the integrated system and wireless communication," Dagdeviren says. "In the future, patients will be able to scan their breasts at home, collect images by their smartphone, send images to the cloud storage, and get feedback from doctors remotely. It will be a powerful tool for early breast cancer detection."
The project shows much promise, according to those involved.
Catherine Ricciardi, nurse director at MIT's Center for Clinical and Translational Research and an author of the study, says: "Access to quality and affordable health care is essential for early detection and diagnosis. As a nurse, I have witnessed the negative outcomes of a delayed diagnosis. This technology holds the promise of breaking down the many barriers to early breast cancer detection by providing a more reliable, comfortable, and less intimidating diagnostic."
Breast cancer is the most common cancer among women, "and it is treatable when detected early," says Tolga Ozmen, MD, a breast cancer surgeon at Massachusetts General Hospital, who is also an author of the study. "One of the main obstacles in imaging and early detection is the commute that women have to make to an imaging center. This conformable ultrasound patch is a highly promising technology as it eliminates the need for women to travel to an imaging center."
Dagdeviren says her ultimate goal is to target people most likely to get interval cancers and to increase their survival rate to as much as 98%.
The researchers also hope to look at adapting wearable ultrasound technology to scan other parts of the body and to use AI to analyze what the breast changes seen on ultrasound over time mean.
— Beth W. Orenstein, of Northampton, Pennsylvania, is a freelance medical writer and a frequent contributor to Radiology Today.