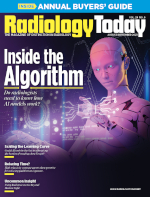 Women's Imaging: Covering Every Angle
By Beth W. Orenstein
Radiology Today
Vol. 24 No. 6 P. 6
Mammograms have long been the gold standard for breast cancer screening. However, mammograms alone may not be ideal for women with dense breast tissue—tissue that is more glandular than fatty, which could be a risk factor for breast cancer. The National Cancer Institute says that nearly 50% of women aged 40 and older who have mammograms learn they have dense breast tissue.
The issue is that dense breast tissue appears white on mammograms. Masses that could be cancerous also appear white, making it more difficult for the reader to differentiate between potential cancer and normal tissue.
In March of this year, the FDA issued a national requirement for dense breast reporting to patients and their referring providers. By September 10, 2024, all mammography facilities must send patients one of two federal density notification statements (dense or not dense). In addition, the mammogram report sent to referring providers must include an assessment of the patient's breast density. To date, separately, some 38 states have enacted similar laws mandating patient notification of breast density.
Health care providers often encourage women who have dense breasts to undergo additional screening with handheld ultrasound, automated breast ultrasound, and/or MRI. Evidence shows that supplemental screening can find cancers earlier and find interval cancers. However, when follow-up and additional screenings are needed because women have dense breasts, a family history of breast cancer, or another reason, a majority have to pay out of pocket for them—often hundreds of dollars and sometimes as much as $1,000. Some commercial payers and state Medicaid programs cover supplemental screenings, but Medicare does not.
No Medicare Coverage
"Medicare covers diagnostic ultrasound only," says Stamatia Destounis, MD, FACR, FSBI, FAIUM, managing partner of the Elizabeth Wende Breast Care in Rochester, New York, and chair of the ACR's Breast Imaging Commission. Destounis is also a member of Radiology Today's Editorial Advisory Board. "Medicare does not consider supplemental breast ultrasound for women with dense breasts medically necessary. So, every patient with Medicare has to sign an advanced beneficiary notice and has to pay out of pocket" even if her doctors believe she would benefit from the additional screening, Destounis says.
Research encourages the use of breast ultrasound for women with dense breast tissue, largely because ultrasound can differentiate between normal dense tissue and cancerous lesions better than traditional 2D mammography, Destounis says.
Age is a risk factor for breast cancer, too. According to the National Cancer Institute, the risk of a woman developing breast cancer increases from 1 in 42 at age 50 to 1 in 28 at age 60 and 1 in 24 at age 70.
Medicare only recognizes a palpable mass or previous abnormal imaging finding such as mammography as legitimate reasons for additional screening with ultrasound (or MRI), says Dana Smetherman, MD, MPH, MBA, FACR, chair of the department of radiology and associate medical director for the medical specialties at Ochsner Medical Center – New Orleans.
Medicare is a federal program, meaning its coverage is determined at the national level. Coverage for screening services by Medicare requires a national coverage determination (NCD), Smetherman says. "Lack of coverage is sometimes mistakenly attributed to the absence of a CPT code. Medicare billing requires CPT codes. However, CPT codes do not mandate coverage— with or without cost sharing for patients. An NCD would be required for screening services to be covered."
Smetherman says she would advise radiologists (as well as patients, referring physicians, and nonphysician providers) to become well informed about the differences in payment policy for supplemental breast cancer screening among different payers.
The Importance of Advocacy
Also, Smetherman says, "Advocacy can have an impact, and we have many examples of successful advocacy in breast cancer screening. That being said, radiologists— and others—will need to advocate at the federal level to obtain Medicare coverage" for supplemental screenings.
Earlier this year, the US Preventive Services Task Force lowered the age at which it recommends women begin breast cancer screening with mammography from 50 to 40 because of mounting evidence. However, at that time, the Task Force said that there was insufficient evidence for it to recommend supplemental screening. Task Force member John Wong, MD, says, "What we don't know yet, and we are urgently calling for more research on whether and how additional screening for women with dense breast might be helpful, including through ultrasound, breast MRIs, or something else."
The ACR continues to recommend annual screening starting at age 40 for women of average risk, but it also recommends earlier and more intensive screening for high-risk patients. New ACR guidelines for high-risk women were published in the Journal of the American College of Radiology.
Reintroducing the Find It Early Act
In May of this year, US Rep Rosa DeLauro (D-Connecticut) and Rep Brian Fitzpatrick (R-Pennsylvania), along with journalist Katie Couric, reintroduced their legislation, the Find It Early Act, which would ensure all health insurance plans cover screening and diagnostic breast imaging, including mammograms, ultrasounds, and MRIs, with no cost sharing. In June 2022, Couric, who has dense breasts, was diagnosed with breast cancer, thanks to additional screening with breast ultrasound, and was given a good prognosis because her cancer was found early.
The bipartisan Find It Early Act would require private and government insurers to cover the high out-of-pocket costs faced by women who are at high risk. Smetherman supports the legislation and encourages radiologists to speak and support it as well. 
— Beth W. Orenstein of Northampton, Pennsylvania, is a freelance medical writer and regular contributor to Radiology Today.