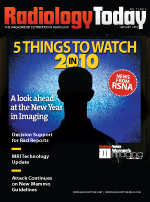 January 2010
New This Month…
By Jim Knaub
Radiology Today
Vol. 11 No. 1 P. 3
We have big news: With this first issue of our 10th year, Radiology Today is now a monthly print magazine—plus much more.
Launched as a biweekly recruitment magazine for radiologic technologists, Radiology Today has evolved into a monthly magazine for imaging decision makers. Radiologists are now our largest subscriber group, followed by radiology managers/supervisors and imaging directors.
When Radiology Today debuted on November 6, 2000, our arrival was promptly swept off the front pages by the next day's news: Then Texas Gov George W. Bush and Vice President Al Gore competed in arguably the closest presidential election in U.S. history. That was bigger news than our debut in most circles.
Today, President Bush is back on his ranch, and we (unencumbered by term limits) are starting a new decade of serving the imaging community in print and online. One big factor behind our shift to monthly print publication is that radiology recruitment largely moved from print to the Internet, as evidenced by the growth in our online Physician Recruitment Center (accessible via www.RadiologyToday.net) and our AlliedHealthCareers.com Web site. With the change in our print frequency, our monthly magazine will become more feature oriented, offering broader reporting and analysis on imaging topics. In between issues, much of our spot news coverage will be distributed via our e-newsletters and updates on RadiologyToday.net. And RadiologyTodayblog.com also provides an outlet for imaging news and comment.
The second big news is the launch of a Radiology Today digital edition. Readers who want their imaging magazine in a digital format (and who want to save some trees) can subscribe to this format and receive all of the same interesting, informative coverage they've come to enjoy, along with some interactive functions only the digital version gives you. Click on the Digital Edition button at www.RadiologyToday.net to access it.
So as we start our 10th year, we've grown from a print recruitment magazine to a trusted multimedia brand and information source in radiology.
Enjoy the issue—and everything else Radiology Today has to offer.
jknaub@gvpub.com