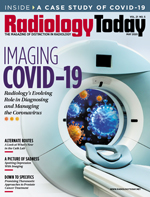 Down to Specifics — Latest Research Yields Promising Theranostic Approaches to Prostate Cancer Treatment
By Dan Harvey
Radiology Today
Vol. 21 No. 5 P. 22
Prostate cancer is fourth most common cancer type in the world. In 2018, 1.2 million new cases and 350,000 fatalities were reported. Efforts to diagnose and treat the persistently problematic disease have led to advances in technology, techniques, and treatment options but, although these innovations have had significant impact, prostate cancer remains prevalent. In light of this, researchers have developed new methodologies, such as the concept of theranostics, which combines diagnostic imaging, radionuclides, and targeted therapy to manage and treat metastatic castrate-resistant prostate cancer (mCRPC)—cancer that has metastasized beyond the gland.
It's a formidable foe to vanquish, but the ongoing battle is global in scope. Research has involved clinicians from the United States, the United Kingdom, Europe, Japan, and Australia. In the past year, new research has explored novel treatment approaches and techniques.
Early Detection
In October 2019, GE Healthcare entered a global partnership with Theragnostics, a biotech company based in the United Kingdom and United States. The partners are collaborating on development and commercialization of a new prostate-specific membrane antigen (PSMA) PET/CT imaging agent, which will be marketed under the name GalliProst.
Theragnostics leads the tracer's development, while GE Healthcare leads in all preapproval commercial preparations. Upon approval, GE will handle commercial and distribution activities. "[The partnership] combines Theragnostics' innovative technology and clinical development capabilities with our commercialization capabilities," says Mohamed Fouda, a global oncology product leader in GE Healthcare's pharmaceutical diagnostics division. "We already have total market access, so we can help scale this up quickly."
Previously, Theragnostics has focused on developing novel radiopharmaceuticals to improve cancer diagnosis and treatment. Its radiopharmaceutical technology platform enables diagnostic tools and therapeutic solutions to inform clinical management, guide care, and treat cancer patients in urgent need areas. So far, the company has developed three diagnostic imaging agents.
The partners anticipate that the GalliProst tracer's eventual commercial launch will provide additional visual information, potentially fostering personalized patient treatment. Already, a phase II clinical study has been completed, with primary and secondary endpoints met.
The primary endpoint evaluated the clinical impact of 68Ga (Gallium-68) trishydroxypyridinone (THP)-PSMA scans on treatment decisions. Impact assessment involved comparing treatment plan records before and after a THP-PSMA scan. Secondary endpoints included the following:

• evaluation of treatment change in patients with positive THP-PSMA scan findings who had a treatment change involving radical salvage therapy;
• diagnostic performance;
• prostate-specific antigen (PSA) threshold;
• safety assessment; and
• comparison with standard of care imaging (if performed).
The prospective, open-label trial, "68Ga THP-PSMA PET/CT Imaging in High Risk Primary Prostate Cancer or Biochemical Recurrence of Prostate Cancer [PRONOUNCED]" included 50 patients. Researchers evaluated the safety and clinical impact of 68Ga THP-PSMA PET/CT imaging on patient management and treatment decisions in men who were newly diagnosed or demonstrated biochemically recurrent prostate cancer after initial treatment.
A GalliProst scan resulted in modified treatment plans for one-third of newly diagnosed prostate cancer patients and more than 50% of patients with biochemically recurrent disease. Further, change in patient management, following radical radiotherapy, increased to 75%. Alteration in treatment plans proved more appropriate as a result of cancer restaging. Also, the data revealed that THP-PSMA was well tolerated. No serious adverse events were reported.
According to the researchers, GalliProst, an in vivo whole-body imaging diagnostic, may provide more accurate diagnoses while avoiding the more complex and expensive attributes associated with current methods. This has the potential to increase access to prostate imaging in hospitals. The first target markets are in the European Union and North America. The researchers also commented that THP-PSMA PET/CT imaging enables prospective—rather than retrospective—analysis of the clinical disease status.
"This is a very exciting area. It's part of our investment strategy in the oncology space. We wanted to become part of this journey and provide access in emerging markets," Fouda says. "GalliProst can help provide earlier detection of prostate cancer. This will give patients access to therapeutics that can cure the disease rather than just provide the therapy. In the advanced stage, options are limited, no longer curative, and more expensive."
A commercial launch will most likely proceed following the current phase III trial; a firm date has not been set.
Hard Target
Researchers working at Memorial Sloan-Kettering Cancer Center in New York recently discovered a prostate cancer-selective antigen that would serve as an effective molecular imaging tracer for detecting and targeting mCRPC.
"This new reagent targets prostate cancer and appears to have high sensitivity," says Jorge A. Carrasquillo, MD, a nuclear medicine specialist at Memorial Sloan-Kettering. "Whether it is better than PSMA is still to be determined."
Using the new radiotracer, the researchers effectively imaged six-transmembrane epithelial antigen of prostate-1 (STEAP1) in tumors. In addition, they were able to localize a significant number of lesions. STEAP1, an amino acid cell surface marker, was identified relatively recently as a prostate cancer target. Its exact function has yet to be determined, but it appears to be an ion channel or transporter protein with a role in cell adhesion. It may be related to tumor proliferation and invasiveness.
Carrasquillo says the researchers suspected that the radiotracer would help them effectively image STEAP1 as well as localize many lesions. Carrasquillo comments that the high expression of STEAP1 in patients with mCRPC compelled him to pursue this line of research; previous studies suggested STEAP1 expression may be a biomarker for the worst prognosis of prostate cancer.
The researchers engaged in a prospective, single-phase study that included 19 patients with histologically confirmed progressing mCRPC with documented metastatic disease on bone scans, CT, or MRI. Researchers imaged patients four to seven days after being injected with approximately 185 megabecquerel/10 mg of 89Zr-DFO-MSTP2109A, a humanized monoclonal antibody (anti-STEAP1).
Tumor uptake and localization were then measured and compared with bone and CT scans. Researchers also evaluated bone and soft tissue biopsy samples. All patients imaged with 89Zr-DFO-MSTP2109A were considered positive for bone lesions, the researchers reported. Eight patients were considered to have soft tissue disease.
Findings were published in the November 2019 issue of The Journal of Nuclear Medicine. Carrasquillo, who served as lead researcher, indicated that 89Zr-DFO-MSTP2109 identifies the extent of mCRPC and determines which patients are best suited for STEAP1-directed therapies.
Researchers observed localization of 89Zr-DFO-MSTP2109A in suspected bone metastases in all patients, and they recorded 515 sites as positive. Their bone lesion analysis revealed a median maximum standardized uptake value (SUV) of 20.6. Further, the analysis of soft tissue lesions revealed a median maximum SUV of 16.8. In addition, researchers analyzed biopsies performed under other research protocols or for clinical indications either before or after imaging with 89Zr-DFO-MSTP2109A. They noted high uptake values of 89Zr-DFO-MSTP2109A in 11 of 12 bone sites biopsied and all five soft tissue sites, each of which was confirmed as histologically positive.
Researchers were unable to biopsy all cancerous lesions. As such, they used a Bayesian approach to apply information gleaned from biopsied lesions to project the number of cancerous lesions in each patient. This resulted in a best estimate of 86% of histologically positive lesions being true positive on imaging with 89Zr-DFO-MSTP2109A.
The researchers noted that, to their knowledge, their study was the first to provide detail of imaging findings targeting STEAP1. The team—which also included clinicians from the department of radiology at Weill Cornell Medical Center in New York, the Center for Targeted Radioimmunotherapy and Diagnosis at Ludwig Center for Cancer Immunotherapy in New York, and Genentech in San Francisco—concluded that 89Zr-DFO-MSTP2109A is well tolerated and shows localization in mCRPC sites in bone and soft tissue. Given the high SUV in tumors and localization of many lesions, the new reagent warrants further exploration as a "companion diagnostic" in patients undergoing STEAP1-directed therapy.
"It has the potential to be used as a sensitive agent for detecting castration-resistant prostate cancer," Carrasquillo says. "Further exploration in other stages of prostate cancer is warranted. Identification of small molecules targeting STEAP1 also is warranted."
A New Technique
Similar results were turned up by researchers from Japan and Germany. They developed a new technique that could optimize PSMA-targeted therapy while minimizing adverse side effects. In their study, which involved a mouse model, the researchers sought to evaluate the change in whole-body distribution of the imaging agent fluorine-18 (18F)-PSMA-1007 when solutions with different peptide concentrations are used, says Fumihiko Soeda, a graduate student in the department of nuclear medicine and tracer kinetics at the Osaka University Graduate School of Medicine in Japan.
"PSMA is overexpressed in more than 90% of prostate cancer cells and is considered a novel target of diagnosis and therapy in prostate cancer," Soeda adds.
The researchers published their findings in the November 2019 issue of The Journal of Nuclear Medicine. Soeda says the team used a PSMA-positive prostate cancer xenograft mouse model. "The mice were divided into three groups—high MA, medium MA, and low MA—depending on the ligand concentrations of injected solutions," he says.
"With regard to the uptake tendency of PSMA-positive tumors, the result is that moderate to high uptake in the specific target, as shown in the high MA group and in the medium MA group, decreased when using an increased peptide concentration [in the low MA group]," Soeda says. "If the injected solution is within high and medium MA levels, the uptake of the tumor is expression of PSMA without underestimation. Uptake tendency of the salivary gland decreased gradually as the MA level decreased." Thus, the salivary gland can be regarded as more sensitive to the increase of unlabeled ligands than the tumor, he adds.
"Though the salivary gland has shown minimum expression of PSMA, the decrease of uptake of the salivary gland, interestingly, looks 'specific,'" he continues. "To the best of our knowledge, the mechanism of this phenomenon of the salivary gland has been unknown."
The study uncovered a new finding: It's possible to reduce uptake in the salivary gland, an organ at risk in 225 Ac-PSMA radioligand therapy, while maintaining the tumor uptake by adjusting the peptide concentration—molar activity—of the injected radiotracer, Soeda says. This suggests that molar activity is an essential factor to define the optimal distribution for theranostic compounds and, by setting an appropriate molar activity level in PSMA-targeted therapy, it is possible to obtain a therapeutic effect in the tumor while minimizing the adverse effects in the salivary glands.
"However, we need further investigation as to the effect of peptide concentration of PSMA when using therapeutic radionuclides because we used a diagnostic PET radiotracer," Soeda says. He adds that his team encountered a surprise. "The decreased uptake trends in the salivary glands, from increasing the radioligand concentration before the experiment, were beyond our expectations," he says.
As far as impact, he thinks the study creates a new concept: Peptide concentration is key to developing theranostics in oncology or a combined therapy and diagnosis for the same target. One caveat, however, is that the study investigated a diagnostic radiotracer, so the salivary gland findings have nothing to do with prostate cancer, as long as PSMA-related radioligand therapy isn't used and patients don't suffer xerostomia—dry mouth.
As for next steps, Soeda says that researchers have started clinical research on 18F-PSMA-1007 PET for diagnosis of prostate cancer, mainly in patients with rising PSA levels after radical treatment. "First, we will seek approval of the radioligand from the Pharmaceuticals and Medical Devices Agency, the Japanese regulatory agency," Soeda says.
Two-in-One Therapy
A recent phase I dose escalation study uncovered a new treatment therapy that combines two targeted treatments. The targeted radionuclide therapy 177Lu PSMA 617 was shown to be safe and effective, maximizing efficacy and reducing potential side effects, but only in some men. News of the discovery was reported at the SNMMI 2019 Annual Meeting and published in The Journal of Nuclear Medicine.
Researchers sought to assess responses in patients with heavily treated mCRPC. Building upon previous trials, they coupled 177Lu PSMA 617 with idronoxil (NOX66), a tumor-specific sensitizer. This phase I/II clinical trial included 16 patients with progressing mCRPC.
All patients received up to six doses of 177Lu PSMA 617 at six-week intervals. Researchers divided the patients into two cohorts. Cohort 1 patients received the additional treatment of 400 mg NOX66 in daily doses over 10 days. Following a safety data review, patients in cohort 2 received the additional treatment of 800 mg NOX66 daily.
The researchers reported that nearly 70% of all patients realized a more than 50% reduction in their PSA levels; this translated to 62.5% in cohort 1 and 75% in cohort 2. Adverse side effects, such as fatigue and pneumonitis, were reported in 31% of all patients.
Initial results revealed that the combined targeted treatments were well tolerated; there was no increase in toxicity from 177Lu PSMA 617. There also appeared to be an apparent high efficacy in men who have already had extensive treatments, according to lead researcher Louise Emmett, MD, an associate professor at the University of New South Wales in Sydney, Australia.
The researchers concluded the Lu PSMA 617 + NOX66 combination demonstrated encouraging early results. Now, the researchers are moving into the phase II stage—dose expansion—to further evaluate effectiveness and toxicity.
— Dan Harvey is a freelance writer based in Wilmington, Delaware.