November 30, 2009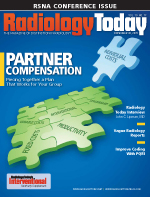 Editor's Note
What Struck You at RSNA?

By Jim Knaub
Radiology Today
Vol. 10 No. 19 P. 3
If you're reading this at RSNA 2009, you're among the first readers to see it. This issue was delivered from our Chicago-area printer to McCormick Place. So if you're still in Chicago, pull out your smartphone and send an e-mail about what you see that is important or just interesting about RSNA to jknaub@gvpub.com. Or visit www.RadiologyTodayBlog.com and add your comments to the "What I Saw at RSNA That Was Interesting" entry on our blog site. I'll be reviewing and participating in that thread and posting to the blog daily. You can access those entries directly from the blog site or via www.RadiologyToday.net. (And if you don't see this until you're back from the meeting, please still share you impressions.)
Also, check out the interesting features in this issue. Timothy W. Boden, CMPE, writes about radiology group compensation—an always fascinating and sensitive topic—in a time when partners' contributions to a group come in increasingly different ways. How do you sort out the contributions of your various subspecialist diagnostic radiologists, your growing cadre of interventionalists, and the doctor who spends significant time outside the reading room maintaining relationships and spearheading the group's planning? Or how do you graft teleradiology onto your practice? And it's not just a matter of what you bring in; what you cost also affects the bottom line.
Also in this issue, John C. Lipman, MD, discusses the challenges and successes of uterine fibroid embolization in a Radiology Today interview. More than 100,000 have had the procedure —with a pretty good track record—but Lipman reminds us that clinical results are not the only factor in acceptance of a new procedure.
And Beth W. Orenstein writes about the seemingly neverending challenge of bringing nuclear medicine images onto the PACS network.
Enjoy the issue.