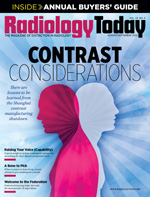 Editor's Note: Controlling for the Uncontrollable
By Dave Yeager
Radiology Today
Vol. 23 No. 5 P. 3
From time to time, we all have to deal with circumstances beyond our control. For example, despite years of warnings that appropriate use criteria were going to be required for advanced imaging exams paid for by Medicare, the Centers for Medicare & Medicaid Services recently announced that the program is now postponed indefinitely. Earlier this year, a plant closure in Shanghai, China, upended the contrast media supply chain. In years past, other unforeseen events have had ripple effects for radiology. It's nearly impossible to predict such events, but a little planning and prevention can help blunt their impact.
This month's cover feature takes a deep dive into the radiology supply chain. After a shutdown at a single plant precipitated a significant contrast shortage, we decided to find out where else supply chain issues could potentially cause problems for radiology. Beth W. Orenstein has the details, as well as tips from experts to help insulate your department or practice from surprise disruptions.
Speaking (pun intended) of what we can control, Selena Chavis chats up some experts for advice on getting the most from your speech recognition software. Speech rec is an essential part of radiology workflow, yet users could be getting even more out of it than they are. Optimizing your speech capability can pay significant dividends. Find out how, beginning on page 22.
In AI news, Aine Cryts reports on federated learning, a different method of training AI algorithms. One of the problems with training AI is that data often don't encompass a broad enough cross-section of demographics and imaging parameters to produce optimal results. Federated learning allows researchers to share data among multiple organizations without the data being exposed because it brings the algorithms to the data, alleviating privacy and other data sharing concerns.
AI also figures prominently in this issue's bone imaging feature. Jeannette Sabatini takes a look at recent AI and other advances that are helping radiologists find broken bones faster, potentially reducing misdiagnoses and improving patient outcomes.
Enjoy the issue.