History
Newborn infant, respiratory distress, inability to pass nasogastric (NG) tube.
Findings
Nasal bone CT reveals narrowing of the nasal piriform aperture (PA). As measured in the axial plane, PA width is 5.2 mm. At the posterior nares, the choanae were patent.
Diagnosis
Congenital nasal piriform aperture stenosis (CNPAS).
Discussion
Compared with choanal atresia, CNPAS is far less common. Shortly after birth, infants may develop difficulty breathing, cyanosis, and, potentially, upper respiratory tract infections. Passage of an NG tube may be difficult, if not impossible. CNPAS is anterior nasal cavity stenosis, whereas as choanal atresia refers to posterior nasal cavity stenosis, the latter usually a function of osseous and/or membranous obstruction.
From an imaging standpoint, a variety of features may be seen with CNPAS, including a stenotic bony inlet, triangular-shaped palate, and maxillary nasal process bony overgrowth +/- abnormal dentition.
In a comprehensive review of patients by Belden et al, all patients with CNPAS had a PA width <8 mm.1 In our case, the PA width was 5.2 mm.
It seems that defect(s) in primary palate formation belies CNPAS, which would also potentially explain associated findings, principally a triangular-shaped palate and/or abnormal incisors. In some cases, the possibility of central nervous system anomalies and/or endocrine dysfunction may warrant consideration, additional workup, etc.
All in all, CNPAS has an excellent prognosis. In the short term, alternate, specialized feeding techniques usually suffice. Surgery is usually unnecessary as the child grows.
— Rahul V. Pawar, MD, Department of Radiology, Division of Neuroradiology, is Clinical Assistant Professor, UMDNJ—New Jersey Medical School.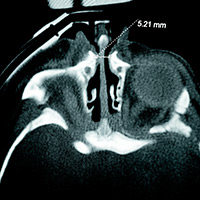 Figure 1
References
Belden CJ, Mancuso AA, Schmalfuss IM. CT features of congenital nasal piriform aperture stenosis: initial experience. Radiology. 1999;213(2):495-501.
Submission Instructions
Cases should have clinical relevance and clear radiological findings.
Seconds should include a title, history and course of illness, findings, diagnosis, and discussion.
Word count should not exceed 800. At least three references are recommended.
Cases may be submitted from any radiological subspecialty and imaging modality.
Figures must be high-quality JPEG or TIFF images and labeled for ease of reference. Please keep images in their native format, without the addition of arrows or other means of highlighting the key findings.
Submit cases via e-mail to Rahul V. Pawar, MD, at rvp325@gmail.com or to Radiology Today at david.yeager@gvpub.com.
Section Editor: Rahul V. Pawar, MD, DABR
Department of Radiology, Division of Neuroradiology
Saint Barnabas Medical Center/Barnabas Ambulatory Care Center