2012 Article Archive
2023 | 2022 | 2021 | 2020 | 2019 | 2018 | 2017 | 2016 | 2015 | 2014 | 2013 | 2012 | 2011 | 2010 | 2009 | 2008 | 2007
December 2012
FEATURES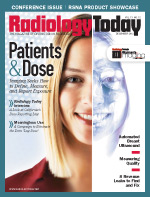 Meaningless Use
If you submit a paper to Radiology that uses the term "low dose," it's not likely to be accepted. Learn why the journal has targeted the term for extinction.
Radiology Today Interview: Reporting CT Dose
Radiology Today interviewed Ascendian President and CEO Shawn McKenzie on the ramifications of the law in California that requires radiation dose reporting.
ASTRO Reporter's Notebook
ASTRO visited Boston in late October. Take a look at some of the interesting research presented at the meeting.
Automated Breast Ultrasound
Recently approved for screening, U-Systems' ABUS finds cancers and reduces operator variability. While unsettled, reimbursement concerns seem headed in the right direction.
DEPARTMENTS
Editor's Note
Dose Specifics
Imaging Informatics
Measuring Quality to Improve Imaging Care
On the Case
MRI Monitor
Technique Could Reduce Breast Biopsies; When MRE Can Replace CT for Kids With Crohn's; Imaging Early-Stage Coronary Disease With MRI
Radiology Billing and Coding
Eight Common Reimbursement Leaks
Target on Therapy
Risk Markers Associated With ED After Radiation; Low Use of Active Surveillance for Low-Risk Prostate Cancer
Women's Imaging News
Positive Identification
Radiography News
Mobile X-Ray Is Moving to Direct DR
Products and Services
News Scan
RSNA Product & Service Showcase
Datebook
Second Opinions
---
November 2012
FEATURES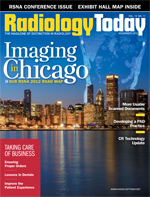 Are Your Orders in Good Order?
An expert answers common questions about obtaining proper exam orders.
How to Build a Busy PAD Practice
The ranks of patients with peripheral artery disease are expected to grow, due partly to the obesity epidemic and an aging population. According to some in the industry, this presents a great opportunity for interventional radiologists interested in diagnosing and triaging these patients.
Mammography Information Systems
Breast imagers face the dual challenge of keeping up with regulations while improving workflow.
Technology Update CR — A Changing Role
Direct digital radiography is expanding, but CR has not left the building.
DEPARTMENTS
Editor's Note
Putting Patients First
Imaging Informatics
Scanned (and Useful) Documents
Managing to Succeed
Focus on the Patient Experience
Radiology Apps
Image Sharing and Productivity Tools
Radiology Billing and Coding
How to Benefit From Medicare Denials
Molecular Imaging News
PET/CT of Lymph Nodes May Predict Breast Cancer Recurrence; SPECT/CT Helps in Detecting Melanoma Metastasis; Imaging Agent Aids Endocarditis Diagnosis
CT Slice
Study Suggests CT Can Predict Worsening COPD; CCTA Benefit for Midrisk Cardiac Patients
On the Case

Products and Services
News Scan
Product & Service Showcase
Datebook
Second Opinions
---
October 2012
FEATURES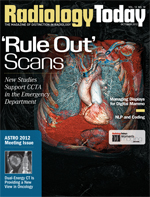 Rule Out Scans
Three new studies support the use of CT scans for low-risk patients presenting with chest pain. Not everyone agrees, but doctors are exploring how to best use the tool.
Characterizing Lesions
Dual-energy CT is providing a new view in oncology imaging.
Vendor-Neutral Archives: Consider a Step-by-Step Approach
The benefits of a vendor-neutral archive come at a cost. Experts in the field offer a  stepped approach to help budget-challenged facilities make the transition.
Managing Monitors for Digital Mammography
Interpreting mammography requires the highest resolution display of routine exams. Making sure the display does its job so the radiologists can do theirs is an ongoing effort.
DEPARTMENTS
Editor's Note
Tools and Carpenters
Imaging Informatics
Image Exchange Down Under
On the Case

MRI Monitor
Leukoaraiosis Alters Seniors' Brain Function; Early MRI After Back Injury Shows Little Value
Radiology Billing and Coding
What Is NLP Anyway?
Women's Imaging News
Radiation Now, No Mastectomy Later?; BRCA Carriers Could See Extra Radiation Risk
Products and Services
Target on Therapy
Urology Self-Referral Extended Patient Travel Time
Product & Service Showcase
News Scan
Datebook
Second Opinions
---
September 2012
FEATURES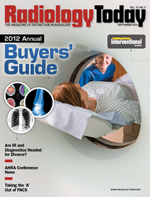 Are You Ready for Intense Price Competition?
Brian Klepper, PhD, said in his AHRA keynote address that new, intense competition on price and margin is the future of radiology.
Headed for Divorce?
Some see a trend toward separate IR and diagnostic practices in radiology's future.
Taking the 'A' Out of PACS
Vendor-neutral archiving shifts control of data from vendor to facility and from radiology to IT.
2012 Annual Buyers' Guide
Don't miss our annual directory of the latest imaging products and services.
September Product & Service Showcase
DEPARTMENTS
Editor's Note
To IR or Not to IR? That Is the Question
Imaging Informatics
Reach for the Clouds
On the Case

Radiology Apps
Reference Tools
Radiology Billing and Coding
Four ICD-10-CM Documentation Tips
Interventional News
Radial Catheterization
Products and Services
News Scan
Datebook
Second Opinions
---
August 2012
FEATURES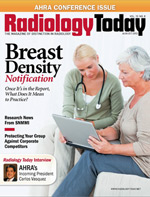 SNMMI Reporter's Notebook
Nuclear medicine news from the society's recent annual meeting in Miami
Administrative Challenges in Radiology
A Radiology Today interview with incoming AHRA president Carlos Vasquez, MSM, RT(R), CRA, FAHRA
Penguin Anatomy
Veterinarians at Brookfield Zoo in Chicago are utilizing 3D reconstructions and ultrasound technologies to produce new perspectives on the creatures in their keep.
Breast Density Notification
Considered both helpful and confusing for patients, notification laws are expanding across the nation.
DEPARTMENTS
Editor's Note
Challenging Times in Imaging
Imaging Informatics
Meaningful Use Stage 2 Acknowledges Imaging
On the Case

Molecular Imaging News
SNM Votes to Change Name; Power of PET/CT for Esophageal Cancer Staging
MRI Monitor
MRI Might Help Diagnose Concussion
Radiology Billing and Coding
Proper Modifiers Maximize Reimbursement
Managing to Succeed
Curbing the Threat of Corporate Takeover
Women's Imaging News
DCIS Treatment Time Could Be Cut in Half; Fewer Younger Women Seek Screening Under New Guidelines
Datebook
Second Opinions
---
July 2012
FEATURES
Securing Films and Files
Whether it's from thieves intent on stealing X-ray films for silver or from other, digital threats, radiology departments must take steps to protect patient information.
Angioplasty and MS Update
The FDA's recent alert on adverse events underscores the need for controlled studies on the CCSVI theory's risks and benefits.
Product & Service Showcase
DEPARTMENTS
Editor's Note
The Irresistible Force?
Imaging Informatics
Making CPOE Work
On the Case

Radiology Billing and Coding
Five Tips for Better Coding
Managing to Succeed
Combating Commoditization
Interventional Update
Ultrasound Effective for EVAR Follow-Up
News Scan
Products and Services
Datebook
---
June 2012
FEATURES
Choosing Wisely
The ACR has joined the American Board of Internal Medicine-led Choosing Wisely campaign to reduce unnecessary care, reduce patient dose, and help curb healthcare costs.
ARRS Reporter's Notebook
A compilation of what's new and noteworthy from the American Roentgen Ray Society's annual meeting in May
Overdiagnosis & Mammography
A new study finds overdiagnosis with increased screening, but there's no way to determine which tumors do not need to be treated.
Summer Product & Service Showcase
DEPARTMENTS
Editor's Note
Overdiagnosis and Mammography
Radiology Billing and Coding
Radiology Coding Refresher
Imaging Informatics
Separate Disaster Recovery and Business Continuity Plans Make Sense
Radiology Apps
Meaningful Use Help and Two Viewers
On the Case
CT Slice
Study Shows Reliance on CT for Kids in Emergency Care; Cost-Effectiveness of CT Lung Cancer Screening
MRI Monitor
Predicting Progress of Dementias With MRI; Insights Into How Combat Sports Affect Memory
Women's Imaging News
Long-Term Effects of Breast Cancer Therapies
Products and Services
News Scan
Datebook
Second Opinions
---
May 2012
FEATURES
Technology Update: PET
In addition to providing a foundation on which to build hybrid technology, recent PET advancements focus on cardiology, neurology, and oncology.
What Radiologists Should Do About the ICD-10 Delay
Radiology Today recently spoke with Don Rodden, president of the Healthcare Billing and Management Association, to learn his thoughts on how radiologists should prepare for ICD-10.
Angioplasty for Multiple Sclerosis
Investigators discussed research about the controversial treatment at the Society of Interventional Radiology's annual meeting in March.
DEPARTMENTS
Editor's Note
Angioplasty, MS, Hope, and Science
Imaging Informatics
SIIM to Host Open Source Plug Fest
Target on Therapy
IMRT Offers Reduced Side Effects in Study; Radiation Benefit for Breast Cancer Subtype Questioned
MRI Monitor
MRI to Join CT in Detecting Pulmonary Embolism?; MRI Perfusion Imaging Guides Glioma Treatment
Radiology Billing and Coding
Role of Radiology Extenders
On the Case
Interventional Update
Aggressive DVT Treatment Reduces PTS in Study; Hicks Begins Term as SIR President
Products and Services
Imaging Informatics and IT Buyers' Guide
CT Slice
CT Lung Screenings Mostly Found Stage 1 Cancers; CCTA Safe for Evaluating ED Chest Pain Patients
Product & Service Showcase
Datebook
Second Opinions
---
April 2012
FEATURES
Moving From CR to DR
Imaging directors share why their organization made the change.
Chair vs. Chair
When it comes to workplace ergonomics, radiologists are becoming the patients, with job-related musculoskeletal injuries on the rise. The right chair—with the right training—can help.
EHR Meaningful Use Certification
One vendor details its process in getting its EHR MU certified as well as what the stage 1 requirements mean for radiologists.
Postcards From San Francisco
SIR 2012 hit the streets of San Francisco for the society's annual meeting. Read our coverage of some of the key presentations.
Spring Product & Service Showcase
DEPARTMENTS
Editor's Note
The Patient/Consumer Relationship
Imaging Informatics
Clinical Information Life Cycle Management
MRI Monitor
Long Time in Space May Cause Eye Changes
Radiology Billing and Coding
What's New in Financial Systems
On the Case
CT Slice
CTC an Effective Screening Option for 65-Plus Crowd; Support for Medicare Coverage of Virtual Colonoscopy Grows
Managing to Succeed
Talk About Your Relationship
Interventional Update
Freezing Breast Cancer Metastases
Women's Imaging News
Are Mammography-Detected Breast Cancers Easier to Treat?; Breast Cancer Survivors Often Have Poor Health Habits; Regular Fish Consumption May Mean Fewer Polyps
Products and Services
News Scan
Datebook
Second Opinions
---
March 2012
FEATURES
Hospital Employment — Can It Work for Radiologists?
It's starting to happen more often. Experts share tips on how to make it work.
Virtual Colonoscopy: Turf War and Peace
At a Wisconsin healthcare system, radiologists and gastroenterologists are setting aside sometimes differing viewpoints on colon cancer screening techniques to increase screening rates in a team effort.
Is Your 'Chain of Trust' Strong?
Your HIPAA protection isn't complete without strong business associate agreements.
Practice Makes…
While not perfect, simulation-based training has value in radiology instruction, particularly for interventional radiology.
Departments
Editor's Note
Hospitals Employing Radiologists
Imaging Informatics
Is It Time to Rethink Your Archive Plan?
Radiology Billing and Coding
Dealing With ICD-10
Research Review
Early Results From 'Adaptive' Radiation Therapy Trial; Nanotube Ablation May Treat Breast Cancer With Laser
Target on Therapy
Study Revisits Brachytherapy for High-Risk Prostate Cancer; Head and Neck Cancer Patients Choose IMRT for Quality of Life
Interventional Update
Study Finds DVT Catheterization Safe in Pregnancy; Study Examines Embolization for Recurrent Nosebleed; Can Angioplasty Improve MS Symptoms?
MRI Monitor
Presurgery Prostate MRI Changes Treatment Course; Molecular Brain Markers Gauge Tumor Recurrence
Second Opinions
---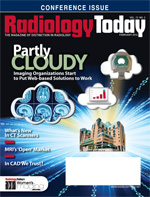 February 2012
FEATURES
Partly Cloudy
Cloud technologies are becoming more familiar to consumers and radiologists alike. Radiology Today spoke with three imaging organizations for their experience with the cloud in relation to image sharing and storage solutions.
MRI's Open Market
More hospitals are opting for open MRI units as they see quality and patient comfort improvements.
Technology Update: CT
The newest CT offerings focus on reduced dose management, faster diagnosis, and more efficient workflow.
Getting Specific
Breast-specific gamma imaging seeks to speed diagnosis and reduce false-positives.
DEPARTMENTS
Editor's Note
The First MPPR Rule of Fight Club
Imaging Informatics
In CAD We Trust?
Radiology Billing and Coding
Five Trends That Will Increasingly Affect Revenue
Imaging and Cancer
Contouring Tool Receives FDA 510(k) Clearance; Cryo Extends Lives in Ovarian Cancer Study
On the Case
News Scan
Technology Trends
Contrast-Enhanced Spectral Mammography
Women's Imaging News
MRI Reconstruction May Predict Difficult Labor and Delivery; Study: Family History Doesn't Lead to More Breast Cancers
Second Opinions
Ultrasound News
Datebook
---
January 2012
FEATURES

Technology Update: MRI
Vendors focus on patient-friendly characteristics while maintaining image quality in the newest MR offerings.
5 Things to Watch in 2012
The traditional radiology model of a contract with a private radiology group augmented by preliminary reads on nights and weekends is increasingly facing challenges from different practice models.
RSNA Reporter's Notebook
The neurologic impact of soccer's 'heading,' what CTs have to say about Stradivarius violins, and other news from November's annual meeting.
Hooking the Public on Healthcare IT
The ONC's new program aims to engage consumers and increase the public's use of healthcare IT tools. Image sharing is just part of a larger picture.
IR Benchmarking — Keeping Up With the Dr Joneses
Software can help interventional radiologists share anonymized practice data to assess performance.
DEPARTMENTS
Editor's Note
Serious and Silly
Imaging Informatics
There's an App for That
On the Case

CT Slice
CT Improved Gout Detection in Study; Lung Cancer Screening Catches Smokers' COPD
Radiology Coding
A Look at Coding in the Year Ahead
Guest Commentary
Measuring and Tracking Dose: A Call to Action
Research Review
Have the Fish to Improve Your Brain Health; fMRI May Improve ADHD Diagnosis; fMRI Maps Brain Function Changes From Violent Video Game Play
Interventional Update
IVC Filter Study Data Supports Current Guidelines
Products and Services
News Scan
Winter Product Showcase
Datebook
Second Opinions